Wavewalk has been developing new solutions to work with its S4 skiff, namely the S4 kayak outfitted with a powerful outboard motor.
Aside from these technical developments that enhance the boat's performance in rough water, shallow water, launching and beaching, fishing and hunting, Wavewalk now offers the S4 in a new color – the Gator Drag Green, seen in some of the pictures below. This color matches the typical drab green color of Jon boats, and it can serve as an excellent base for camouflage.
1. Portable set of large-size, wide wheels for carrying the Wavewalk S4 over rough terrain
The first is a set of large-size, wide wheels that allow for easier carrying of the S4 when outfitted with a heavy outboard motor. This is particularly useful for anglers who want to launch this skiff in remote beaches on the Gulf coast, in marshes, flats, etc. The wheels work well on rough terrain, but pulling the boat in deep sand is still not easy.

2. Large-size spray shield for the Wavewalk S4
Sometimes the Gulf of Mexico gets choppy, and you want to drive your S4 skiff in it at full speed. No problem with that, except that if you have a passenger sitting in the front (e.g. a fishing buddy), they might get splashed when the bow hits waves.
The solution is a large-size, lightweight, detachable, transparent spray shield, and shown here: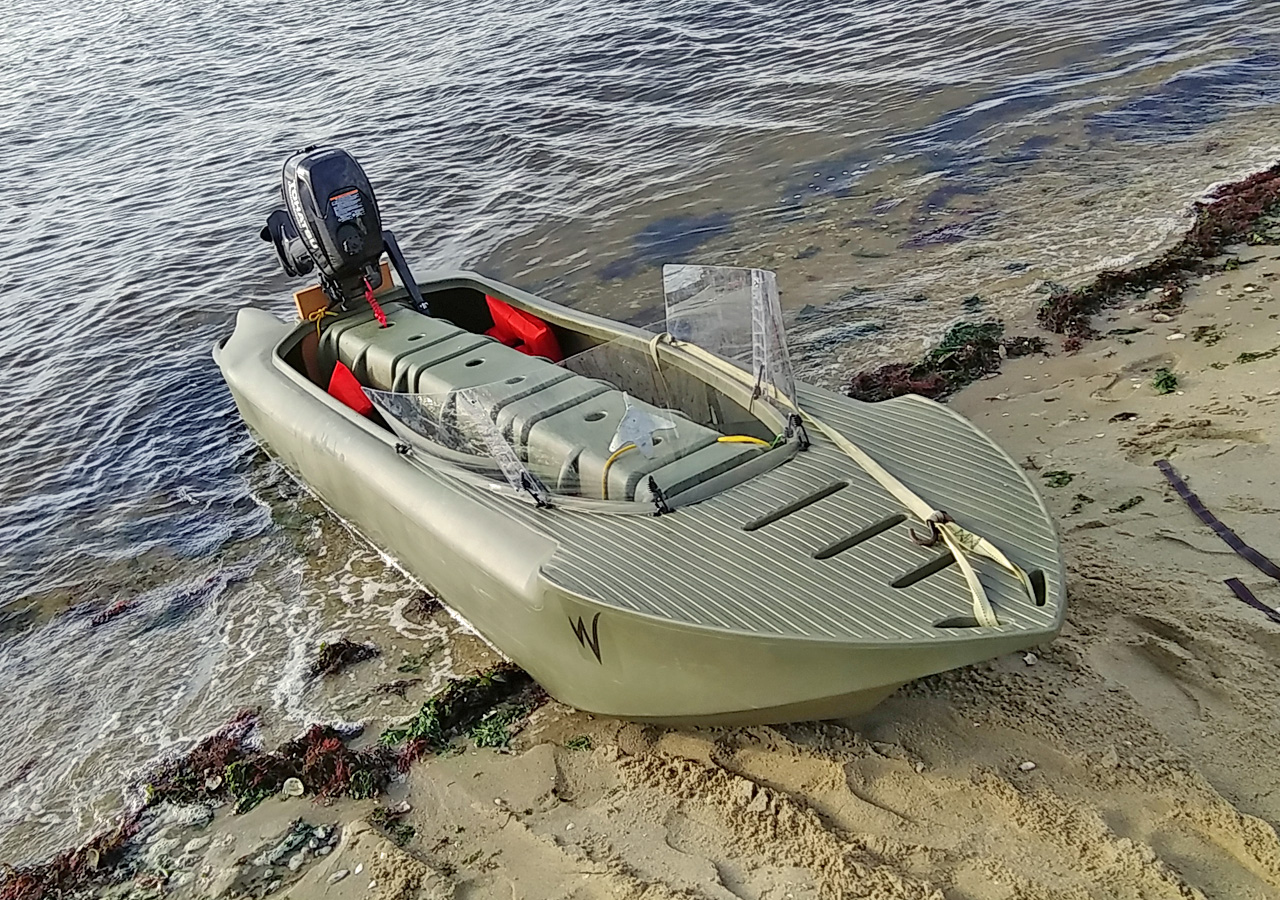 Since this spray shield is attached to the deck with just a few bungees, detaching is quick and easy, in case it gets in the way during a fishing trip.
Wavewalk does not offer this spray shield for sale, but the good news is that making a DIY version is easy and inexpensive, and the materials can be purchased at home improvement stores.
3. Powerful mud motor for driving in marshes and flats
Chris from Northern Tribe Outdoors use a Wavewalk S4 outfitted with a 6.5 HP mud motor in their duck hunting trips. Since the S4 won't take all of them on board plus the mud motor, wheels, and retriever dog, they take a Wavewalk 700 kayak too. The S4 can easily hip-tow the non-motorized W700, and carry all the team over long distances, in shallow water, mud, marshes, etc.